Quick Facts
📍Location: Hyssna, Sweden
🗺 Distance: 43 kilometers
🏔 Elevation Gain: 457 m 1st day, 436 m 2nd day
📅 Days: 2 (On Weekend)
⭐️ Featured: lakes, viewpoints, forests
📶 Cellular Quality: Good
🔥 Grill Place: Yes
🚾 Toilets: Yes
🗑 Trash Can(s): Yes
🏕 Camping Spot: Yes
It was the second week of October and I was eager to see those beautiful colors in the forest to feel the Autumn deeper, and haven't been doing a proper hike for a while. After looking into my bookmarks where I'm keeping all the trails that I want to hike, I decided to hike Hyssnaleden this time. It was laying down for a long time on my list and it was waiting for me to be picked up.
It's a loop trail, 43 kilometers long and I thought that it can be squeezed in a weekend. Knew that it might be tough for a weekend though, and it was!😊 40-45 kilometers long trails are definitely doable in 2 days, however, if the day after the hike is a workday, sometimes it might be hard to focus on working for me since I feel quite tired afterward. But it's good for your soul, right? This time I felt that power inside me and said to myself, "let's do it!". And I'm glad that to make that decision!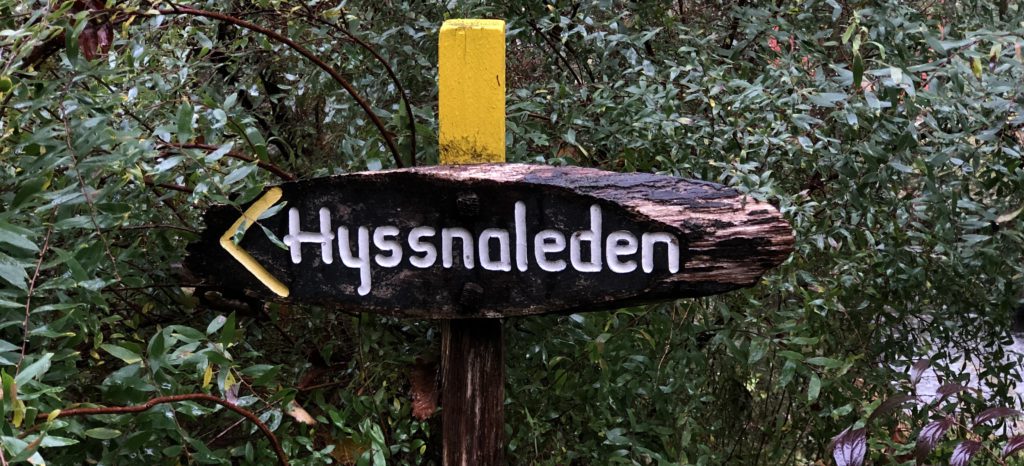 Since I have no car, it's always tricky to get to the starting point of the trails (or from the ending point to home). I always need to think about and plan the starting-ending points of the trails and make sure that there are available public transportation connections. Luckily we have a wide network of public transportation outside of Gothenburg as well.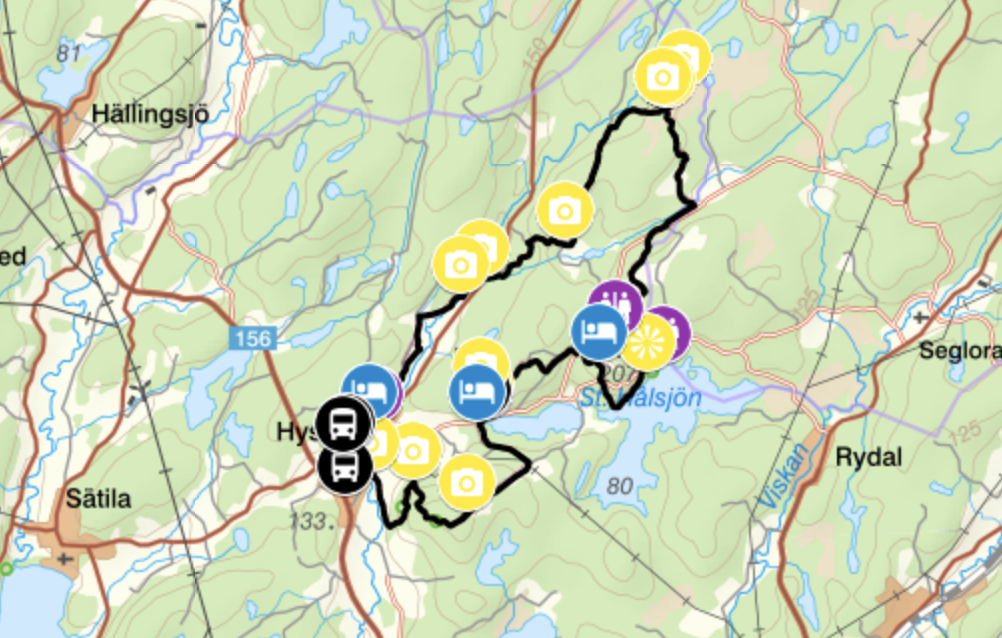 How to get there?
It's possible to get there by bus 300 without having any changes, it was possible in October 2020 at least. Departs from Åkareplatsen near the Göteborg Central Station and it takes 55 minutes to get there. When you take off the bus in Hyssna Handel, you need to walk around 100 meters to reach the starting point of the trail. Please check Västtrafik's website before planning.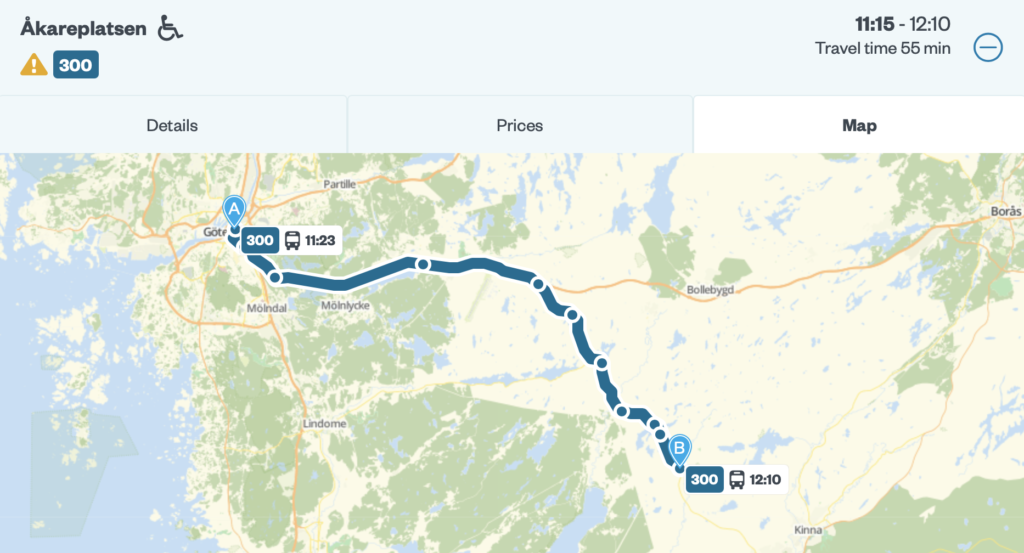 I hiked this trail counter-clockwise direction and I would say that it's perfectly marked, thanks to Marks kommun!
First Day
The trail starts with the beautiful countryside of Hyssna and then a bit later you meet the forests right away. It is good to point out that there lots of ups and downs in this part of the trail. It was quite peaceful since it was raining as well. Of course, it's not the best thing if it's rainy when you're hiking upwards, since you get sweat as well but I like the sound of the rain when you are in the forest, especially if it's an old one. There were some tables and a resting area in the first forest, but due to the rain, I decided to keep walking.
After walking around 7 kilometers and getting soaked quite a lot because of the rain, it was time to fika in the forest under the tarp!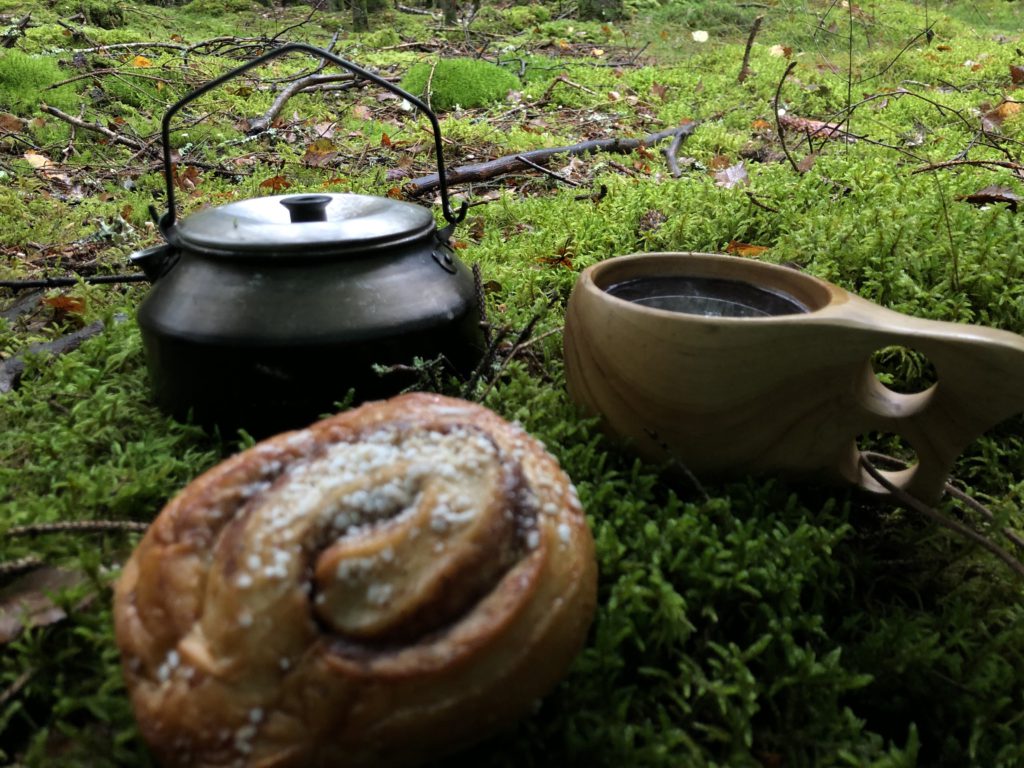 Viewpoints
After having fika, I was so lucky that it stopped raining and the sun appeared behind the clouds. After passing the forests, first, you meet Lilla Hålsjön, and then hiking about 5 km later you meet Stora Hålsjön. There was a nice spot for camping by Stora Hålsjön but I decided to move on since I was aiming to complete the trails in 2 days.
On the path between those 2 lakes, there are beautiful viewpoints where you can see the whole Stora Hålsjön from the top. Moreover, there was a magical moment that the rainbow has appeared and it lasted for almost 10 minutes there. I couldn't take my eyes from it, it was hard to leave that spot.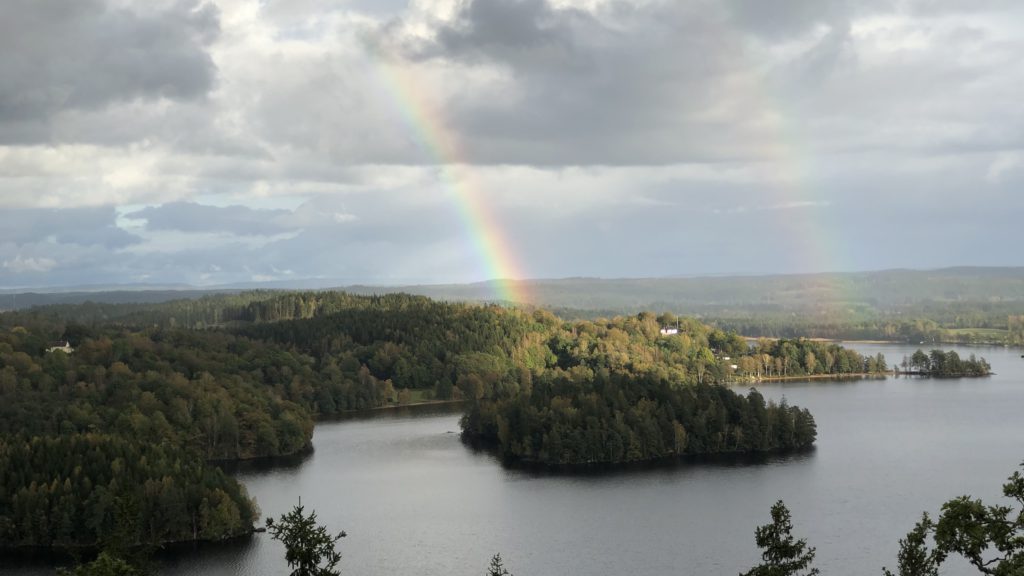 The point that I took the photo above you can find a table, a grill, and some dry woods provided by Marks kommun if you want. And there is a parking spot closer if you just want to enjoy the view. It is good to know that it is quite steep from the lake level to the top.
Camping Spot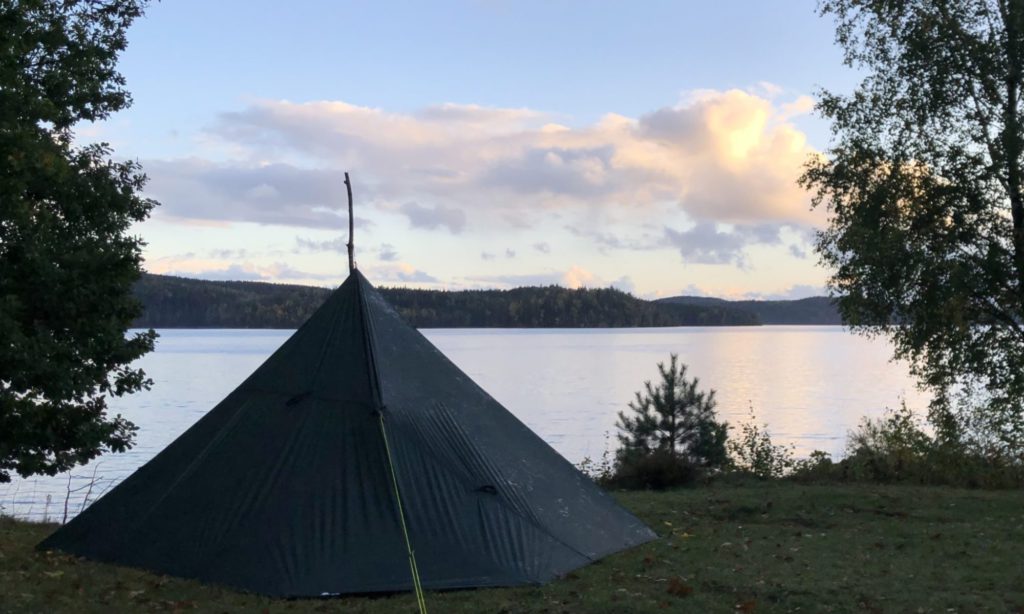 After all those beautiful views, you hike constantly downhill and then reach the lake level again. There is a designated area that you can pitch your tent (a flat, grass surface), also have a fireplace, dry woods, and a toilet. I had my DD Hammocks 3×2.9 Tarp with me, pitched it by the lake, and woke up with a breathtaking view!
Hiked approximately 18 kilometers to get to the camping spot from the beginning.
Second Day
After a while leaving the camping spot you reach an area that a wind shelter and a table can be found, however, it wasn't close to the lake. And also you need to hike uphill for a while to get there. I needed to have a water source by me so that's why I chose to pitch my tarp by the lake. For the ones who have no tent and have enough water, you can consider staying overnight inside the wind shelter.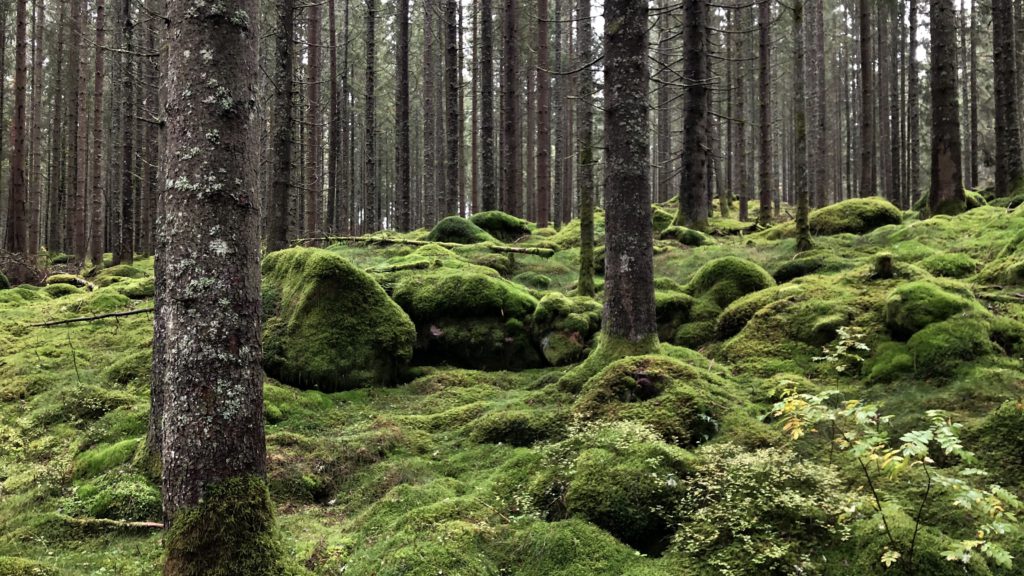 Then you will meet the magical forests. I really fascinated with this part of the trail. All was green, I'm pretty sure that it's the same in winter as well, but thinking of summer, when all the nature bursts. Must be beautiful! ❤️
You will find information regarding the wolves were in this area in the middle of the 19th century. To be honest, seeing this information table before passing that forest made me feel a bit nervous as a solo hiker. 😊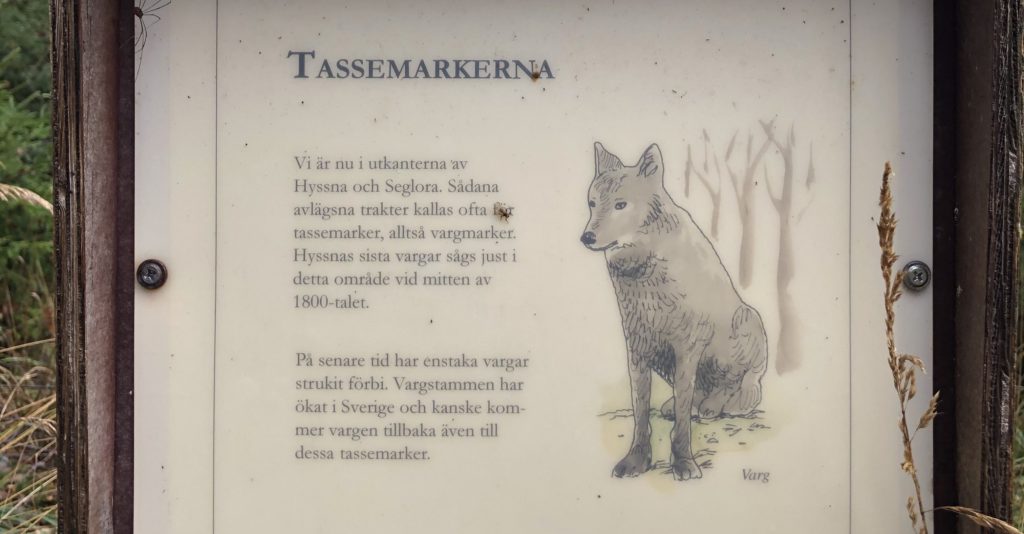 There were lots of beautiful spots along this part of the trail and I wanted to give a break and enjoy nature but I had to keep walking since my plan was to hike 25 km to complete the trail in order to get back home, since the next day was a workday. So I pushed myself to walk faster as I could.
After having a couple of short breaks, eating some snacks, stretching my legs etcetera, I finally got closer to the ending point. There was an old bridge which is around 200 years old, so close to the point that I started hiking. Actually, there were some "old" attractions around that area that I couldn't find time to enjoy this time, would love to visit them next time.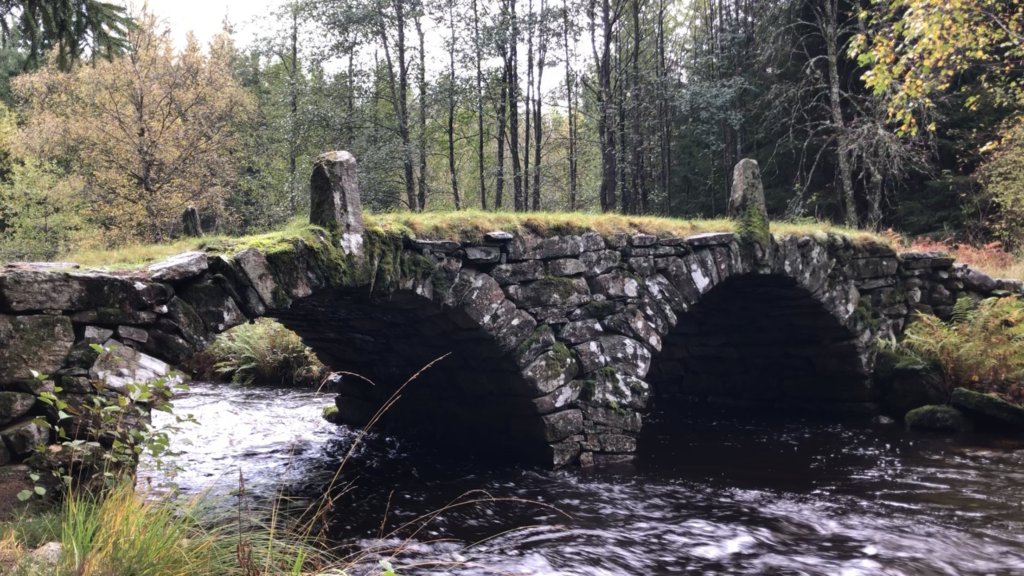 Last but not least there is one more thing that I would like to share before ending this post, the old mill. I haven't been inside, I'm sure that there is more exciting stuff but had a coffee break across the river instead, it was such a relaxing moment to having that coffee and taking a deep breath, after walking 25 kilometers in a day.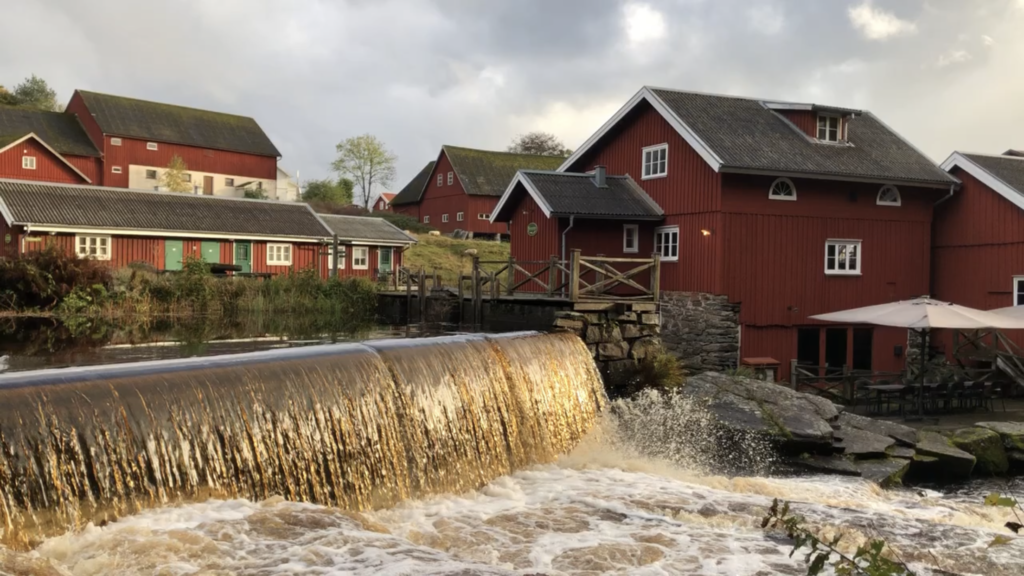 It was such a great weekend! And I look forward to hiking this trail again! I like the loop trails and the feeling of meeting the starting point. Hyssnaleden is great for it! You can organize a day trip to hike some part of the trail instead, or split it into 3 days if you'd like to enjoy nature more.
Hope you enjoy reading this post, and thanks for reading! There might be lots of spoilers about the trail though, but they're just like small details, and pretty sure that you'll be amazed when you encounter those beautiful spots. You will also find the official information about the trail here in this website.
The route of the whole trip:
Profile
Minimum elevation:
No data
Maximum elevation:
No data
Duration:
No data
Description
Hyssnaleden Day 1
Profile
Minimum elevation:
No data
Maximum elevation:
No data
Duration:
No data
Description
Hyssnaleden Day 2
I filmed my hiking adventure and published on YouTube as well. If you are interested watching it, here it is: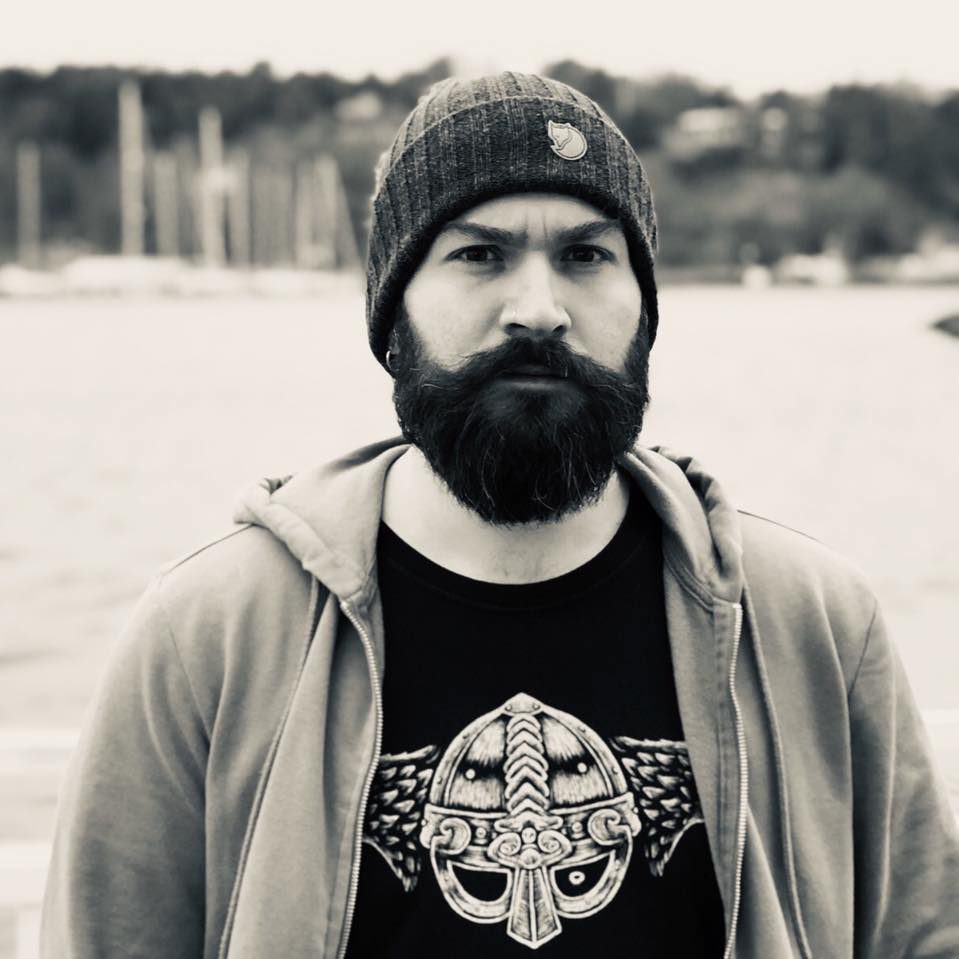 Gökhan Gultekin
Gothenburg, Sweden